Orthocellular Nutrition and Exercise Inc.
  
Maintaining Beautiful Skin with Age
... to help you ...

Keep your Skin Firm, Glowing, and Wrinkle-Free
With Maintaining Beautiful Skin with Age you learn the truth about proper skin care.

In the mainstream of today, myths, misconceptions, and misinformation prevail when it comes to preventative health in general and skin care in particular.

Here, you will find all of the inside information that is being held back.

Now, once and for all, you get everything that is missing and that you need to take care of your own skin in a safe and natural way!

Feel the softness of your skin again!
Who is it for?
The e-book is for adults who want to keep their skin firm, full, and wrinkle-free as they age. Oh, and I should also mention that if you follow the protocols your face will take on a radiant glow.

Everything is discussed in an easy-to-use format that includes plenty of tips, techniques, and protocols that you can put to use now to maintain your skin over time.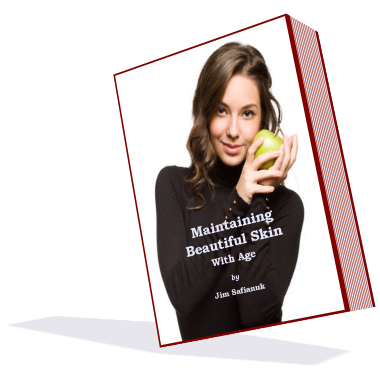 What's it about?
Maintaining Beautiful Skin with Age has been designed to help you keep your skin youthful as you age. The essential nutrients needed to preserve beautiful, glowing skin stem from the natural whole foods, fluids, and fortifiers way. They include the:
correct foods,
right fluids, and
proper fortifiers.

In addition, what manifests itself on the surface of your skin can often be due to an internal problem with your liver, kidneys, lungs, or colon.
In light of this fact, maintaining healthy skin also requires:     
Proper digestion of food in the stomach,
Efficient absorption of nutrients in the small intestine, and
Effective elimination of wastes by the skin, kidneys, lungs, and colon.
Moreover, to keep your skin supple, bouncy, and radiant with age, you need to avoid the many refined products, artificial additives, and dangerous chemicals that are damaging your skin. They are currently found in:
refined sugars
refined vegetable oils,
rancid and trans fats,
processed foods,
skin care products,
cosmetics, and
chemical sunscreens.
"The foods we eat and the fluids we drink determine the health of every organ in our bodies. Our largest organ, the skin needs live foods and hydrating fluids on a regular basis to build and maintain youthful cells." … by Jim Safianuk
This is the
first
edition of the e-book entitled
Maintaining Beautiful Skin with Age
. The publication is available in the easy-to-read PDF
e-book
format.

Major Health Benefits
Here are seven benefits you get from Maintaining Beautiful Skin with Age:

Your Skin Becomes Firm yet Bouncy: With the right foods and fortifiers you can maintain the collagen and elastin fibers in your skin. Collagen is a structural protein that imparts a firm look while the elastin is a another protein that maintains bounce and resiliency.  

Your Skin Stays Full and Supple: With your collagen and elastin matrix intact from the right foods and fortifiers mentioned above, your skin will retain moisture and take on a full, supple appearance providing you supply it with the correct quantity and quality of fluids on a daily basis.

Your Skin Takes on a Radiant Glow: This is a direct benefit of the essential fatty acids and monounsaturated fatty acids, aka the good fats and beneficial oils that are now part of your diet. They work to maintain the integrity of your skin cell membranes. When your cell membranes or casings are healthy, especially in the dermis layer, you are rewarded on the outside with a glowing look. 

You Avoid the Dreaded Sagging Skin that often Comes with Age: This is a direct consequence of reducing and/or eliminating the refined sugars, refined oils, rancid fats, deep fried foods, and processed pap in your diet. These bad foods attach to the proteins in your skin and create the AGEs and ALEs that cause your skin to sag.

You Stabilize and Prevent Future Wrinkling: When you stop the AGEs and ALEs from forming in the first place, as mentioned in the above benefit, you prevent the sag. When you also retain the collagen-elastin matrix in your dermis layer as mentioned in the first benefit above, you can store plenty of moisture in your skin. But, when you put these two together you can prevent wrinkling, which stems from both saggy and dehydrated skin.

You have a Reduced Tendency for Disease: It has often been said that what you see on the outside is a reflection of how healthy your body is on the inside. Poor skin health is a symptom, as well as a manifestation of disease states that are getting a foothold inside your body including GI tract problems, liver and gallbladder disorders, nervous system issues, inflammatory conditions, an acidic pH, and certain cancers.

Therefore, the protocols you follow and the procedures you implement now to return your skin to a healthy, youthful look, will also benefit your body on the inside over time through an increased ability to ward off illness and prevent chronic diseases from setting in.

You Enjoy Life More: Another spin off of your new, youthful look is that your spirits will be lifted, which in turn will give you more energy and vitality throughout the day so you can enjoy life to the fullest.

A message from Jim ...

I am certain Maintaining Beautiful Skin with Age will keep your skin firm and full, as well as supple and bouncy over the long haul. Fill out the self-assessment forms, carefully read the topics, and weave the procedures into your lifestyle. Learn to apply them over and over again until they become second nature.

Like the other e-books entitled Essential Health Tips and Core Health Tips, this e-book is another one of the great equalizers when it comes to the truth about the relationship between preventative health and skin care. Hopefully, with this e-book we help to boost your understanding of that connection.

Go slow, absorb the concepts, and apply the protocols to your particular situation to reap the many benefits offered by this e-book.

Once your skin begins to take on that healthy, radiant look again that you had in the past, I'm sure you will never want to go back. Ever!

I guarantee it ....

To your health,

Jim Safianuk
Now, feel the softness of your skin again! Follow the steps in the e-book.
Order
Maintaining Beautiful Skin with Age

here ...


E-book Price: Maintaining Beautiful Skin with Age is priced at $97.00 CAD.

How to Order: To buy the e-book, click the Add to Cart button below.


Our Guarantee: Your purchase comes with a 180-day money-back guarantee. This means there is no risk and no obligation on your part. If your skin does not begin to show signs of a more youthful appearance by applying the procedures, protocols, and tips contained in the e-book ... simply return the e-book within the above time period and we'll refund your complete purchase price with no questions asked.

Checkpoint ...

To return to the top, click here: Maintaining Beautiful Skin with Age