Orthocellular Nutrition and Exercise Inc.

The Top Five Fluids
... to help you ...

Build an Ageless Body
The Top Five Fluids is the second e-book in the series.

We know that half-truths and misinformation are rampant when it comes to proper hydration.

Here, you will find all of the missing information when it comes to the best fluids for your body.

Again, we jettisoned all the mainstream hype and went straight for the truth. Now, with the help of The Top Five Fluids we are certain that you will learn everything you need to keep yourself hydrated, day after day.

And, you will get to feel the energy in your steps again!

Who is it for?
The e-book is designed for adults who want to pull themselves back from the threshold of disease and who wish to hydrate properly with the best fluids to keep their health at a normal level.

What's it about?
Everything stems from the use of the top, five fluids and is presented in an easy-to-use, tips-based format. The e-book contains preventative health tips that cover this essential nutrient in its entirety.

It spans the following topics:
 The fundamentals of pure water.
 The correct quantity of fluids you need each day.
 The right quality of fluids your body requires.
 How pure water is produced in the home.
 Other fluids that are made from pure water.
A number of mainstream myths and misconceptions about hydration are debunked along the way and resources are included throughout the e-book.

This is the
first
edition of
The Top Five Fluids
.
The publication is available in the easy-to-read
PDF EBook
format and is
48
pages in length.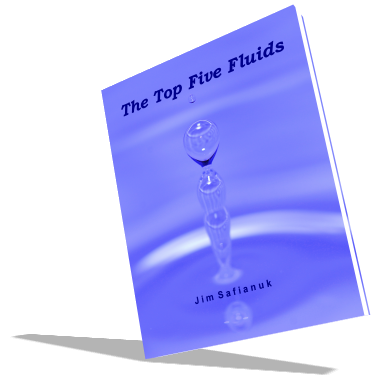 Health Benefits
The Top Five Fluids describes what your body needs at the cellular level in terms of the quantity and quality of pure water. Five, major health benefits that stem from the top, five fluids are as follows:

Health Benefit #1: You Learn to Get the Quantity of the Fluids Up each Day: This essential nutrient has many important functions in the body. One of them is to serve as the aqueous medium inside your cells where  biochemical reactions take place. If the level of water in your cells is constantly low, day after day, from being in a state of dehydration, the reactions will slow down and even stop.

This is not a good situation because some of these reactions produce much-needed, structural proteins, metabolic enzymes, and other protein-like materials for the repair and regeneration of your cells, as well as for the regulation of bodily processes. The key here is to remain consistent and keep the quantity of fluids up, day-after-day. Your body does not take any time off at the cellular level, and neither should you.

Health Benefit #2: You Find Out How to Get the Quality of the Fluids Right each Day: Everything discussed stems from the application of pure water that is made from adjusted, distilled water, which serves as the base for the other fluids. Once you get this down pat, there is no need for any other fluids. In short, the quality counts in large amounts.

Health Benefit #3: You Discover How to Purify Water for Home Use: It is of the utmost importance to remove the contaminants from tap water, and this means all of the contaminants. The public has been repeatedly misled on this subject for far too long. Now, we set the record straight.

Health Benefit #4: You Get to Augment What You Eat: The top, five fluids augment the natural, whole foods way of eating. When you hydrate your body with the proper quantity and right quality of fluids on a consistent basis, and provide them with the correct nutrients from natural, whole foods, each and every day, your cells will jump for joy and you will be able to dance the night away.

Health Benefit #5: You Get on the Road to an Ageless Body: After implementing the top, five fluids into your lifestyle each day, you will take your health to the next level and begin to experience a new you at the cellular level. You will now be on the road to an ageless body.

You can order the e-book here ...
E-book Price:  The Top Five Fluids is priced at $47.00 CAD.

How to Order: To buy the e-book, click the Add to Cart button below.

You get Advice from an Author you can Trust
Jim Safianuk is on a mission to get the truth out about what it takes and what one needs to do to get back on the road to leading a lifestyle that is not only healthy, but also vibrant, full of energy, and long-lived. There is just too much, self-inflicted disease out there in today's world according to Mr. Safianuk.

With The Top Five Fluids Jim holds nothing back when it comes to the truth. In this way, you get an e-booklet by an author you can trust and a wealth of advice that is of the highest quality. The health and nutrition information is all evergreen content that will stand the test of time. You can put the tips to use now and in the years to come while on the road to an ageless body. After all, as Jim often states, "An ageless body is our birthright."

There is no getting around the following fact.

Jim realized that most men and women in North America consistently lead a lifestyle that is conducive to producing disease. When you live a life outside the boundaries that have been imposed by where we now stand on the evolutionary scale, you set yourself up for illness early in life. We are still hunter-gatherers and creatures of pure water.

To turn a wrong into a right, Jim decided to write and publish the truth in a format that seemed most applicable to today's world. Hence, The Top Five Fluids was born. This approach provides health information in short snippets that are easy to apply to one's life, as well as in a Question and Answer conversational style, as if sitting at a table asking Jim questions.

To cover all the bases and delve deep into this topic, Jim had to draw on his science background, industrial experience, and analytical abilities, as well as his talents as a professional writer, both article and technical, and his current understanding of proper hydration and nutrition from the standpoint of pure water and fluids based on pure water.

A message from Jim ...

I am certain the top five fluids will help you rebuild your body at the cellular level. Weave the tips slowly into your lifestyle and apply them over and over again until they become second nature. Remember, even though it is easy to regenerate your body, it does takes time.

So, go slow and reap the benefits offered by the tips. You will then be on the road to building an ageless body, and you will never want to turn back. I guarantee it ....

To your good health,

Jim Safianuk
Now, go put the energy back in your steps!
Order the Top Five Fluids here ...

E-book Price:  The Top Five Fluids is priced at $47.00 CAD.

How to Order: To buy the e-book, click the Add to Cart button below.
Our Guarantee: Your purchase comes with a 90-day money-back guarantee. This means there is no risk and no obligation on your part. If you do not get and remain hydrated and your health does not begin to soar ... simply return the e-book within the above time period and we'll refund your complete purchase price with no questions asked.

Your Account: Orthocellular Nutrition and Exercise Inc., guarantees that under no circumstances will unauthorized billings or recurring transactions be applied to your credit card account. All products purchased from Orthocellular Nutrition and Exercise Inc. via this site will always be shipped or made available for download. Orthocellular Nutrition and Exercise Inc. and PayPal.com will never debit your credit card for a higher than advertised price.